It's the lie – don't you know it's the lie?
Since the beginning of time, the method's been the same:
Defeat and divide – still, we cling to the lie.
We don't know anything better;
We just surrender to the lie.
It seems ironic to me that I'm sharing with you about this song the day after my birthday, when my Facebook wall was kindly bombarded with good wishes and encouragement. You would think that it would be impossible to feel lonely and unloved in the midst of that kind of outpouring, right? 
Wrong. Today, it would be impossible for me. But 10-12 years ago, I could have pulled it off quite easily. I could have rationalized my discouragement by telling myself they don't really care about me. I could also find myself in the middle of a crowd, with actual people, feeling completely alone. I could find a negative internal "spin" for just about every circumstance. You see, I believed this:
It's the voice that whispers, "you're not good enough."
The one refusing to believe you could be worthy of love;
The one that looks around at all your friends
and says, "you don't deserve them."
And you believe it.
(
elaboration here
on my friend Nate Pruitt's blog, where I did
a guest post
for his fear2freedom theme a while ago)
The enemy of our souls is called the "father of lies" for a reason. He would have you believe anything but the Truth. If he can get you to believe mostly truth and just a little bit of lie mixed in, that's where he'll start. And he's schizophrenic ; he'll throw completely opposite ideas at you just to see what sticks. At least that was my experience. 
That voice will turn and say you're better than your neighbor; 
Same old liar, just a different flavor. 
In our attempt to hide our weaknesses,
we bite the hook and bury it
Line and sinker.
Did you catch the second half of that verse? I don't really have to ask if you've ever been tempted to hide your weaknesses from others.
I know you have, because we all do
. It seems easy to comfort a friend with "you're not alone" – and yet, when I feel alone in my own struggle the temptation is to withdraw – and that doesn't solve anything!
The other thing that happened when I lived in the shadow of the lie, is that I was afraid to try things because I was convinced I would fail. The reality is, if you live and breathe you are going to fail at things. But you're also going to succeed at things! Instead of giving in to the fear and doing nothing, I've learned to tell them to shut up. A technique I learned recently through
Jon Acuff's START
is to literally mock fear – because its claims are ridiculous! Read that book, think about it.
Check out Jon's blog
. Mock your fear.
It's every fear you've ever heard, stuck on repeat
You've never really known them;
still, they make your knees weak
And if you'll just stay where you are
and never reach out to the world, 
Then the enemy's succeeded.
Regardless of the specific lies you've believed, the key is to not only refute them but also to fill that space with the Truth that we find in the word of God. John 8:32 says that when you KNOW the Truth, it will set you free. I believed a bunch of lies about myself because I didn't know the Truth, and so I surrendered to them for years. Then God woke me up one day and opened my eyes to where He told us to fill our minds with the Word and meditate on it day and night, to keep it on our lips (Joshua 1:8). I took index cards and wrote down the main lies that kept repeating, and found scriptures that proved they were lies. I carried them with me, and when the old lie came up, I read the corresponding scripture.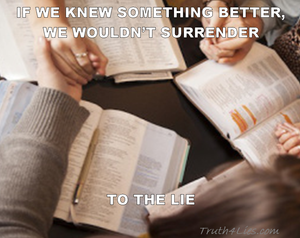 It's the lie – don't you know it's the lie?
Since the beginning of time,
the method's been the same:
Defeat and divide – WHAT IF we called it a lie?
IF WE KNEW something better, we wouldn't surrender to the lie. 
What I know now is that
God has planned good things for me
(Jeremiah 29:11);
He has loved me with an everlasting love
(Jeremiah 31:3); even
when I fall short, I am not condemned
(Romans 8:1). I also know that
when I take delight in the Lord, He has promised to give me the desires of my heart
(Psalm 38:4). 
*There's a whole lot more that can be said about that last one, but that's the simple essence of the Truth there. But that was where this half-verse came from:
If there's a hope rooted deep in your soul, you know, the Farmer doesn't plant the seed unless He wants to watch it grow…
And just for kicks, here are some more favorite verses of mine:
2 Corinthians 10:5 
Take every thought captive to make it obedient to Christ
Hebrews 4:12 
The Word of God is living and active, sharper than a double-edged sword... 
And here are some scriptures that refute the main lies I personally believed.
LIE: I'm not special.  I don't matter. Here's some TRUTH:
Genesis 1: 31a
(NASB) - God saw all that He had made, and behold, it was very good…
Psalm 45: 10-11
(Message) - Now listen, daughter, don't miss a word: forget your country, put your  home behind you. Be here—the king is wild for you. Since he's your lord, adore him.
Matthew 6:25
(ESV) - "Therefore I tell you, do not be anxious about your life, what you will eat or what you will drink, nor about your body, what you will put on. Is not life more than food, and the body more than clothing? 
1 Samuel 16:7
(ESV) - But the Lord said to Samuel, "Do not look on his appearance or on the height of his stature, because I have rejected him. For the Lord sees not as man sees: man looks on the outward appearance, but the Lord looks on the heart."
1 Corinthians 6:19-20
(NLT) - Don't you realize that your body is the temple of the Holy Spirit, who lives in you and was given to you by God? You do not belong to yourself, for God bought you with a high price. So you must honor God with your body.
Isaiah 44: 1-10
(The Message) - But for now, dear servant Jacob, listen— yes, you, Israel, my personal choice. God who made you has something to say to you; the God who formed you in the womb wants to help you. Don't be afraid, dear servant Jacob,  Jeshurun, the one I chose. For I will pour water on the thirsty ground and send streams coursing through the parched earth.
I will pour my Spirit into your descendants and my blessing on your children. They shall sprout like grass on the prairie, like willows alongside creeks. This one will say, 'I am God's,' and another will go by the name Jacob; That one will write on his hand 'God's property'— and be proud to be called Israel." God, King of Israel, your Redeemer, God-of-the-Angel-Armies, says:
"I'm first, I'm last, and everything in between. I'm the only God there is. Who compares with me? Speak up. See if you measure up. From the beginning, who else has always announced what's coming? So what is coming next? Anybody want to venture a try? Don't be afraid, and don't worry: Haven't I always kept you informed, told you what was going on? You're my eyewitnesses: Have you ever come across a God, a real God, other than me? There's no Rock like me that I know of."
LIE: I'm not pretty enough. Here's some TRUTH: 
Psalm 139: 13-16
(NIV) - For you created my inmost being; you knit me together in my mother's womb.  I praise you because I am fearfully and wonderfully made; your works are wonderful, I know that full well. My frame was not hidden from you when I was made in the secret place, when I was woven together in the depths of the earth. Your eyes saw my unformed body; all the days ordained for me were written in your book before one of them came to be.
1 Peter 3: 3-4
(CEV) - Don't depend on things like fancy hairdos or gold jewelry or expensive clothes to make you look beautiful. Be beautiful in your heart by being gentle and quiet. This kind of beauty will last, and God considers it very special.
Ecclesiastes 3: 11
(NIV) - He has made everything beautiful in its time. He has also set eternity in the human heart; yet no one can fathom what God has done from beginning to end.
Proverbs 31: 30
(NASB) - Charm is deceitful and beauty is vain, But a woman who fears the LORD, she shall be praised.